Later today, history will be made in Fairfax, Virginia as the Professional Bull Riders (PBR) 25th Anniversary Monster Energy Unleash The Beast Tour will crown its very first event champion as the U.S. Border Patrol Invitational is set to conclude with Championship Sunday.  Last night's action gave us much to cheer about for both the cowboys and the bucking bulls with a solid performance with fourteen qualified rides being made in round one but a much different outcome would be seen in the 15/15 Bucking Battle.  In that round, it was complete domination from the bovine athletes giving all of the fans inside of the EagleBank Arena something to be excited about as the Unleash The Beast Tour made its very first stop in the history of the organization.  Every fan came into today expecting to see more of the same as the match-ups for round three were announced earlier in the morning.
Although the fan count was a little low last night that would all change today as the day that we would crown a champion was upon us and everyone wanted to be a part of the history on Sunday afternoon so the arena started to fill in quite nicely.  The energy that was filling the venue could be felt no matter if you were inside or outside as the doors opened and the lights began to shine brightly down on the arena floor as shades of last night were still fresh in everyone's minds.  That begin said, everyone watched in horror as Koal Livingston was hurt inside of the chute but was announced late last night that he was probable for today's action so all were waiting to see if he would be able to continue on Championship Sunday.  All those questions would soon be answered as the action and dust began to stir as we look to crown another 2018 event champion!
Keyshawn Whitehorse Brings Home The Round Two Victory In Fairfax
Photo Credit: Andy Watson /Bull Stock Media
Round one, less than twenty-four hours ago, we began to see all the wrongs begin to fix themselves from the event last weekend in Atlantic City where it was a struggle to put any number of qualified rides together throughout the weekend.  Last night, that all changed as we saw nearly half of the field e able to do just that and the odds are in the bull rider's favor again here this afternoon as round two has some fantastic match-ups that will surely let all of us see some great rides being made once again.  Last night, fourteen were able to make it to the eight-second buzzer which nearly ills the open fifteen pots available for the championship round.  After the introductions were made it was time to get down to the business at hand and see what would unfold on a Sunday afternoon!
As round two began, it became quickly apparent that we were going to be in for quite a treat as we began to watch the best in the world do what they love to do and it showed on this Sunday afternoon!  Knowing that a qualified ride was needed to advance each one of the thirty-five guys here this weekend tried their hearts out in order to gain one of the top fifteen average scores over the weekend.  This is an extra special event win that these guys were trying to secure since it would be the first ever entry in the record books for the Unleash The Beast tour here in Fairfax and each of them wanted to be able to walk away with that distinction.  After all was said and done, there would be another fourteen riders that would be able to make it to the eight-second buzzer while Keyshawn Whitehorse would take the round win with a nice 87.50 point ride atop of Hale/Braun/Wallgren's No Excuses to head into the championship round riding a wave full of confidence!
Complete Breakdown Of Round Two Qualified Rides From Fairfax:
Keyshawn Whitehorse (87.50)                                                                          Derek Kolbaba (87.25)
Cody Jesus (87.00)                                                                                              Cooper Davis (86.75)
Jose Vitor Leme (86.00)                                                                                    Ramon de Lima (86.00)
Cody Teel (85.50)                                                                                                Colton Jesse (85.00)
Silvano Alves (85.00)                                                                                         Kaique Pacheco (84.75)
Joao Ricardo Vieira (83.75)                                                                              Stetson Lawrence (82.75)
Valdiron de Oliveira (81.00)                                                                             Luciano De Castro (81.00)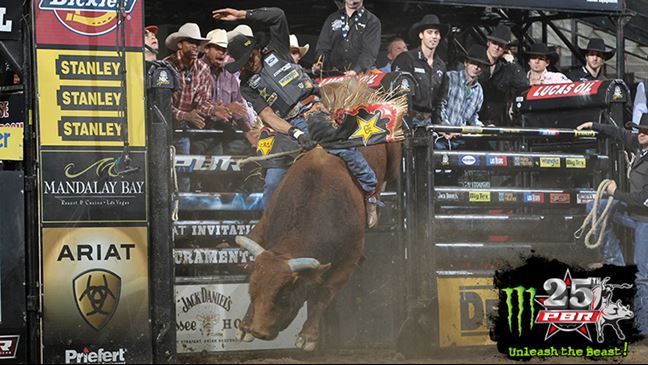 Valdiron de Oliveira Secured The Championship Round On Sunday Afternoon
Photo Credit: Andy Watson /Bull Stock Media
over the past two days, we have been able to see some of the very best in bull riding entertainment grace the floor of the EagleaBank Arena for the very first time but the final day of action was far from over after an exciting round two earlier on in the day on Sunday afternoon.  Each and every PBR fan new that we could not leave Fairfax, Virginia for the very first time without concluding the weekend without crowning our first ever U.S. Border Patrol Invitational champion in this city.  That being said, there were still fifteen rides to be completed as the history would continue with the Championship Round that was set to take place momentarily down on the arena floor as the tight race here this weekend would come to a dramatic conclusion for one lucky professional bull rider.
Heading into the championship round, the top fifteen bull riders from the weekend's performance thus far were set to compete to see who would be able to walk out and set the record books into motion here in Fairfax.  Unlike the 15/15 Bucking Battle that we watched last night where the riders were blanked and the bovine athletes reigned supreme, we were expecting to see at least a few qualified rides here in the final championship round.  Much to the delight of the fans watching around the world, we would be treated to five qualified rides with some of them raising the fans to their feet, cheering their favorite bull rider on to victory.  After all was said and done, Valdiron de Oliveira would outlast all the others with a nice 88 point ride aboard Dakota Rodeo/Julie Rosen/Clay Struve/Chad Berger 's Cooper Tires Brown Sugar to bring home the championship round win on Sunday afternoon!
The Ice Man Makes History After Earning The Event Win In Fairfax
Photo Credit: Andy Watson /Bull Stock Media
As the 2018 U.S. Border patrol Invitational was about to draw to a close and cement itself in the Professional Bull RIders history books, the fans here in Fairfax, Virginia could not let us leave without finishing off the weekend in grand fashion.  Of course, just like every other weekend throughout the year, we could not call it a night without the customary walk to the top of the shark cage to award the big check, boots, hat and other prizes to the winner of the weekend's event.  Earlier today, that award presentation would have a little extra special meaning as we could close out a new tour stop and give the first ever event winner designation to one very lucky cowboy that put everything together to have a masterful weekend in front of these loyal PBR fans for the very first time!
Throughout the entire weekend, the action has been a close fierce battle between some of the very best bull riders in the world who all came to Fairfax with a renewed level of enthusiasm as they looked to earn the event title.  One of those men could not do anything wrong and had a weekend to remember as we march toward the conclusion of the 2018 season in just a few short weeks as we look forward to the 2018 PBR World Finals this coming November in Las Vegas.  This weekend, the spotlight would shine down solely on one man as he would leave here with the 2018 U.S. Border Patrol Invitational event championship title.  That being said, that man would be none other than Kaique Pacheco who would go a staggering 3-for-3 all while earning a combined 257 points, giving him a whopping 450 world title race points.  His win here this weekend extending his world number one spot in the 2018 world standings, setting him up nicely for a great run in Las Vegas in just over a month's time!
After a weekend of firsts, we look to continue the trend and finish out the 2018 Monster Energy unleash The Beast Tour on a strong note.  We were very fortunate to have Michelle from the Fans of the PBR covering this weekend's event for us and letting us know what was happening live from the arena in real time.  Now that the adrenalin has calmed down and the lights have dimmed on the EagleBank Arena floor, we must set our attention to this year's remaining events that will ultimately bring us to Las Vegas for the 2018 PBR World Finals.  Next week, we will invade the Texas capital city of Austin followed by another first-time event in Milwaukee, Wisconsin.  We will have our team in place to, again, ring you all of the breaking news, exclusive interviews and event updates from both of these fantastic events so stay tuned to see how everything unfolds!
It is quite easy to follow all the breaking news and excitement with the Rodeo Round Up simply by copying this website into your favorites in your web browser for easy one-click access to event statistics. You can also like and follow us on Facebook here, or by liking and following us on Instagram at @rodeoroundup and on Twitter at @therodeoroundup.  You can have easy access to all of the video interviews Jason does from all the events across the country as well by simply clicking the link HERE to be transferred to the Rodeo Round Up's Youtube channel as well! Jason has also made it easy for you to be a part of his interviews by opening up a listener comment line. If you have a question for a certain rodeo star simply call in and leave your name, where you are from, who the question is for and what your question is and he will do his best to get it answered for you during his interviews.