Every year there is that one event that will draw more attention across not only the country but the world as the best bull riders from around the globe converge on one arena to fight for the distinction of their country supplying the best bull riders in the world.  This will be the third time that the Global Cup has come around after visiting Canada and Australia in the previous two years before making its way to Jerry's World, AT&T Stadium here in Arlington, Texas!  Things have already started off with a bang with numerous events happening around town and at Texas LIVE! just down the road.  Yesterday, we were officially introduced to all of the teams that will be competing, including two separate teams from the United States.  Along with them will be teams from four other countries that will make for a fantastic event over the next two days!
Those two different teams from the United States each have a specific meaning to those that are representing them as we will see specific nationalities being showcased throughout the next two nights that will make that honor have that much more meaning!  The first team, The Wolves, will represent those cowboys that we have the honor of watching that have Native American descent, which will mean so much to those folks watching around the world.  The second team, The Eagles, will give you a look at some of the best American bull riders in the world as they look to take home the victory tomorrow afternoon.  Along with these two fantastic teams will be teams representing the countries of Canada, Australia, Mexico and Brazil that will showcase many of the top bull riders in the world!
The title of Global Cup champions will not be the only things that these top-level cowboys will be competing for as the Global Cup trophy is something of honor and much different than any other awards that these cowboys have ever received.  As you can see above, the Global Cup trophy gives each of the five counties competing for their very own spere atop of the iconic trophy that each country is striving to win.  The main difference of this trophy is that each sphere will twist off and allow the winning team to place the dirt of their home country arena dirt if they happen to take home the victory in their home country.  Like each and every other year, the home country is given a competitive edge while being allowed to have twice as many bull riders as the other countries which is exactly why you will see two United States teams competing here this weekend.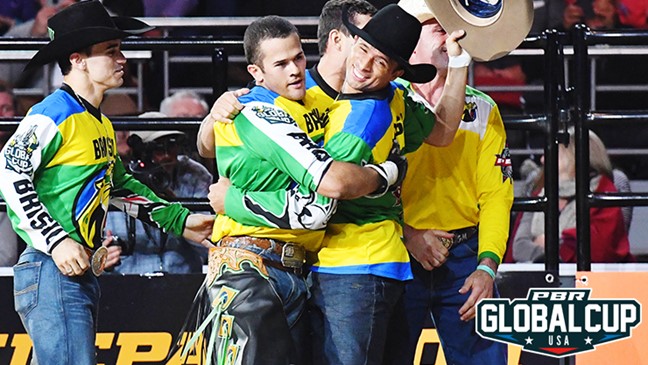 Jose Vitor Leme Rides  His Way To The Brazil Team Lead After Night Number One
Photo Credit: Andy Watson / Bull Stock Media
To say that Brazil is a country to be reckoned with in the bull riding world would be a huge understatement after what we all have witnessed here tonight inside of the legendary AT&T Stadium in Arington, Texas!  The team came into the 2019 Global Cup with one thing on their mind, that was to come into the United States and make their presence known after winning the very same event just one year ago.  Following the first night of action, Team Brazil would be able to do just that by besting all other teams and head into the last day of competition with a huge three bull lead after covering seven of the nine bulls placed underneath of them tonight, capped off by an amazing ride put out by Jose Vitor Leme in the second section of the Bonus Round here earlier this evening that left the crowd stunned and the Brazil team flying high.
Complete Breakdown Of The Action From Night Number One:
Team Wolves:
Cannon Cravens (87.00) – Section One
Ryan Dirteater (85.75) – Section Two
Cody Jesus (87.00) – Section Four
Stetson Lawrence (85.00) – Section Six
(344.75 Points)
Team Eagles:
Cody Teel (89.00) – Section Two
Brennon Eldred (86.00) – Section Four
Cooper Davis (85.75) – Section Six
Cooper Davis (89.50) – Bonus Round Section One
(350.25 Points)
Team Mexico:
Jorge Valdiviezo (84.75) – Section Two
Alvaro Aguilar Alvarez (85.75) – Section Three
(170.50 Points)
Team Australia:
Aaron Kleier (82.75) – Section One
Lachlan Richardson (86.75) – Section Five
(169.50 Points)
Team Brazil:
Bruno Scaranello (87.50) – Section Two
Marco Antonio Eguchi (79.00) – Section Three
Kaique Pacheco (83.50) – Section Four
Fernando Henrique Novias (85.00) – Section Six
Eduardo Aparecido (82.00) – Section Seven
Eduardo Aparecido (88.50) – Bonus Round Section One
Jose Vitor Leme (90.00) – Bonus Round Section Two
(595.50 Points)
Team Canada:
Jordan Hansen (87.00) – Bonus Round Section Two
(87.00 Points)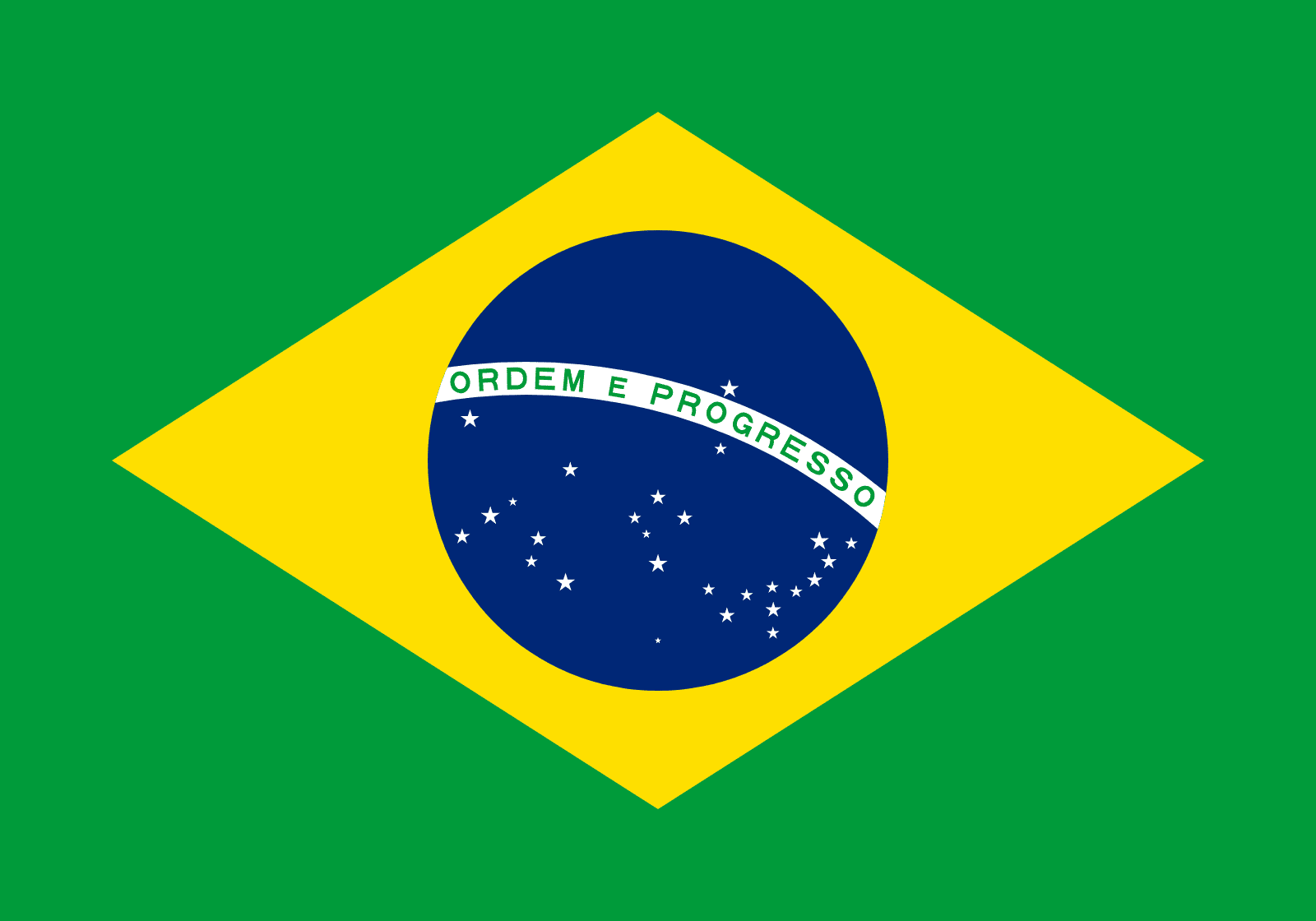 Team Brazil Leaves Night Number One As The Team To Beat
If the green and yellow flags were not flying high inside of AT&T Stadium on Saturday night, one could only imagine that you were snoring away in your sleep while one of the greatest bull riding events in the history of the business was taking place.  The 2019 Professional Bull Riders Global Cup began earlier tonight as it graced the soil of the United States for the very first time in front of a huge crowd of professional bull riding fans!  Once all was said and done, Team Brazil would be dominate and lead the way with 595.50 points besting the United States Eagles and Wolves who would manage to put up 350.25 points and 344.75 points respectively.  Following them would be Team Mexico with 170.50 points, Team Australia with 69.50 points and then Team Canada who would only manage to put up one score on the board in night one with an 87.00 point ride.
Closing Thoughts
Things are beginning to look interesting as the final day of competition of the 2019 Professional Bull Riders Global Cup is just hours away from the United States soil of AT&T Stadium here in Arlington, Texas, the home of the Dallas Cowboys.  This event will come down to the very end as only the top twelve qualified ride scores of each team will be counted while all others will be thrown to the wayside.  That being said, if a team does not make a total of twelve qualified rides, they will virtually be eliminated from contending for the Global Cup trophy and championship title that awaits us at the end of tomorrow afternoon's performance.  Our Rodeo Round Up Team will again be on site and down in the trenches bringing you all of the up-to-date action and pop-up video snippets on our Facebook page that you can follow through the link below!
Follow The Rodeo Roundup
It is quite easy to follow all the breaking news and excitement with the Rodeo Round Up simply by copying this website into your favorites in your web browser for easy one-click access to event statistics. You can also like and follow us on Facebook here, or by liking and following us on Instagram at @rodeoroundup and on Twitter at @therodeoroundup.  You can have easy access to all of the video interviews Jason does from all the events across the country as well by simply clicking the link HERE to be transferred to the Rodeo Round Up's Youtube channel as well! Jason has also made it easy for you to be a part of his interviews by opening up a listener comment line. If you have a question for a certain rodeo star simply call in and leave your name, where you are from, who the question is for and what your question is and he will do his best to get it answered for you during his interviews.