After a record-setting round one that we all witnessed just under 24-hours ago, we begin to shift our focus to this afternoon's final two rounds of action inside of the Tacoma Dome to see who would be crowned the 2018 event champion.  Last night, we all watched a changing of the guard with Ramon de Lima being knocked out of the world number one position by fellow countryman Luciano De Castro who would leave last night with 100 world title race points and around win to boot!  This afternoon's activities will continue to focus on the bucking stock of Contractor of the Year Chad Berger as we continue to progress through the 75 total bovine athletes that he has brought to Washington State which is a record-breaking feat which he also owned prior to this weekend's event here in Tacoma!
Even with all of the spectacular things we all were able to watch last night we also had to witness the injury bug continue to show its ugly face upon the top 35 bull riders in the world standings, knocking yet another top ten cowboy out of action.  For the most part, each bull rider would be able to leave the arena throughout round one without any major injuries that we could tell, which the Sports Medicine Team and PBR Insider Justin Felisko would later confirm.  That being said, everything would change once the 15/15 Bucking Battle would take place moments later with many huge match-ups happening.  Last night it was world number three Jose Vitor Leme who would sustain a torn ACL that would keep him out of action for the remainder of the weekend if not longer as the summer break draws closer.
Brennon Eldred Claims The Round Two Win In Tacoma
Photo Credit: Andy Watson / Bull Stock Media
As the fans began making their way back to the Tacoma Dome for the second round of action for the Tacoma Invitational, many of them were wondering if we would again see some of those cowboys that need a huge weekend would continue to strive towards the front.  Coming into this afternoon's second round, we would start the day by watching a changing of the guard with a new world number one after last night's action while also watching the resurgence of one cowboy that used to be a household name on tour as of a few years ago.  That man, Sean Willingham, would continue to have a weekend to remember after getting the call as an alternate this weekend while going two for two and head into the championship round as the number one man to beat with fifteen rides to go.
Although Willingham was beginning to take center stage, there were ten other cowboys that would manage to make the elusive eight-second buzzer here in round two which would make for a fantastic championship round later in the day.  As the round progressed we would watch for the first time in recent memory a very fast round with absolutely zero re-rides that would be taken.  Like I said earlier after all was said and done, it would be a total of eleven guys that would make the buzzer but no one could compare to the effort that Brennon Eldred once again put up to earn a round two victory with a nice 88.25 point ride aboard Dakota Rodeo / Chad Berger / Clay Struve / H&C Bucking Bulls' Wicked Stick that would send him into the championship round with a solid middle of the road pick.
Complete Breakdown Of Qualified Rides In Round Two From Tacoma:
Brennon Eldred (88.25)                                                 Alex Marcilio (87.00)
Michael Lane (86.75)                                                     Fernando Novais (86.50)
Sean Willingham (85.50)                                              Eduardo Aparecido (84.75)
Claudio Montanha Jr. (84.50)                                     Kaique Pacheco (84.00)
Colten Jesse (83.25)                                                      Silvano Alves (79.75)
Tanner Byrne (77.25)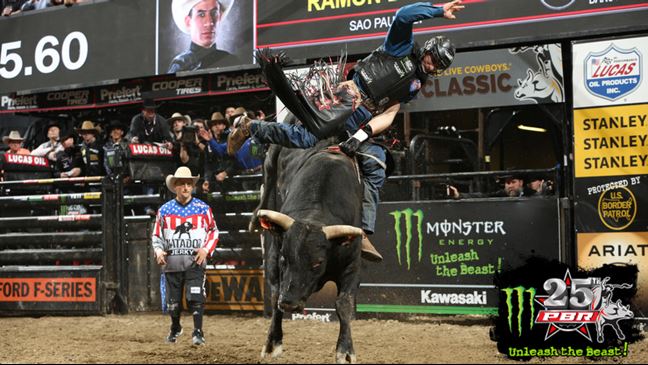 Ramon de Lima Takes Home The Championship Round Win
Photo Credit: Andy Watson / Bull Stock Media
After all was said and done, the final round of the night would take place but the happenings and choices that we all would see would be something that we have never seen and leave us trying to figure out what the rules of the game exactly are.  Before we get to that, we need to take a close look at two specific picks that would make us all both laugh and raise our eyebrows in wonder why things happened the way they did.  That choice that we are talking about would be that of newcomer Fernando Novais who obviously wanted to make a name for himself after calmly walking up and choosing Pearl Harbor with other easier bulls that were left on the board.  On the other hand, Sean Willingham would show everyone the confidence he had going into the round while picking Like A Boss to send a message to all the other fourteen contestants after heading into the round with the number one pick of the night!
Speaking of figuring out the rules, we would have to talk about Jess Lockwood who would not make the walk to choose his bull but was trying to choose it while sitting in the sports medicine room but would be bumped to the last pick after not making it to the arena.  After finding out his pick he would decide to not take his spot that would make for a buzz around the arena and speculate on how bad he was hurt, later finding out he would just be proactive in his choice to continue to nurse his injured hand.  After all was said and done, there would be three of those fifteen that would manage to make the buzzer and earn some needed championship round points.  No one could match the effort that Ramon de Lima would put up to win the championship round with an 88.75 point ride atop of Dakota Rodeo/Chad Berger/Clay Struve/Heald Pro Bulls' Rising Sun to leave Tacoma with a round win giving him his world number one ranking back heading into next weekend's event.
Kaique Pacheco Celebrates His 2018 Tacoma Invitational Win
Photo Credit: Andy Watson / Bull Stock Media
Once the weekend's festivities were concluded the excitement down on the arena floor still had some unfinished business to take care of as we all waited to officially crown the 2018 Tacoma Invitational event champion.  This weekend there would only be one man that would be able to completely dominate the entire field by going the only one to go a perfect three for three to claim the event title here in Washington State.  After all was said and done, it would be the Brazilian Ice Man himself, Kaique Pacheco, that would be the one standing atop of the shark cage at the end of the day on Sunday afternoon.  Pacheco would be able to bring 256.25 points to the board all while claiming 460 world title race points, taking home a cool $34,770.00 while he was at it sending him into next weekend's Billings, Montana event full of swagger and confidence!
After a fantastic event that gave all of us all that we could handle, we saw great bull rides, world leader changes, the resurgence of Sean Willingham and the closing of the event with Ramon de Lima regaining his world number one position in the championship round.  Along with all of that, we continued to watch Cody Nance have a Cinderella season, coming up just short but placing second in the event moving him up another spot to the number two ranking in the 2018 PBR world points race, setting up for a huge three day event next weekend in Billings, Montana that always has a little extra flare since Flint Rassmusen takes us all home to celebrate and partake in his wild antics! As the first half of the season continues to draw closer and closer, each weekend begins to take its toll on the cowboys but each year every one of them enjoy the stop in God's country as we head to Montana!
It is quite easy to follow all the breaking news and excitement with the Rodeo Round Up simply by copying this website into your favorites in your web browser for easy one-click access to event statistics. You can also like and follow us on Facebook here, or by liking and following us on Instagram at @rodeoroundup and on Twitter at @therodeoroundup.  You can have easy access to all of the video interviews Jason does from all the events across the country as well by simply clicking the link HERE to be transferred to the Rodeo Round Up's Youtube channel as well! Jason has also made it easy for you to be a part of his interviews by opening up a listener comment line. If you have a question for a certain rodeo star simply call in and leave your name, where you are from, who the question is for and what your question is and he will do his best to get it answered for you during his interviews.