After round one here in Albuquerque, the fans have already seen more qualified rides than we have seen in total each of the last two weekends which begins to tell us that those bull riders in the locker room area are beginning to figure out what they have been doing wrong in the recent past.  Last night, we were able to watch sixteen of the thirty-eight bull riders here this weekend make it to the eight-second buzzer, thus, fulfilling the available fifteen spots in the championship round already.  That being said, this brings a whole new focus to do what they have to do to carry on the momentum that was started last night just to be able to make it to the championship round tomorrow afternoon that will ultimately crown a new 2018 Ty Murray Invitational event champion after all is said and done inside "The Pit"!
Two of those that were able to have a night to remember after splitting the round one win came into last night's round feeling completely different than the other and on two completely opposite ends of the spectrum.  First of all, Canadian bull rider Dakota Buttar has had a month that most would soon want to forget after having his riding equipment stolen and then after replacing it would have it lost due to displacement from the airline company.  Last night, however, he would finally be reunited with his long-lost equipment and would have a stellar reunion with a round one split with Jess Lockwood who came in riding a wave of confidence following his $100,000 win at the RFD-TV's The American!  We look to have them continue to roll here in round two later this evening live from "The Pit".
Keyshawn Whitehorse Carries On The Momentum With Another Qualified Ride In Round Two
Photo Credit: Andy Watson / Bull Stock Media
Coming into tonight's second round of the Professional Bull Riders 25th Anniversary Monster Energy Unleash The Beast Ty Murray Invitational everyone behind the bucking chutes knew that after last night's round it became an absolute must and a ride or die situation early on.  This weekend is a rare three-day event that we will see throughout the 2018 season which brings the opportunity to earn a huge amount of world title race points with a solid performance.  This is especially true for those fourteen alternates that will compete again here in round two, which means that any one of these riders could potentially leave Albuquerque well within the top 35 in the world standings giving them the opportunity to stay on tour for many weeks to come.  After last night a number of them took full advantage as they did here tonight in round two as well!
Just as it was 24-hours ago, the cowboy introductions would have a different sound to what we are used to hearing over the arena speakers with so many of the top ten guys out due to injury or sickness.  As the cowboys were introduced many new names and faces would grace us with their presence but would demand others to take notice they were there to play with the big boys.  In tonight's round two, nothing had changed as many of the fourteen would again post up qualified rides and began to inch closer to the chance to partake in the Championship Round on Sunday afternoon.  After everything was said and done, Keyshawn Whitehorse would best the other alternates with a solid 88 point ride aboard Sirridge/Donaho's Sitting Bull to bring with him heading into round three with a second place finish earlier tonight!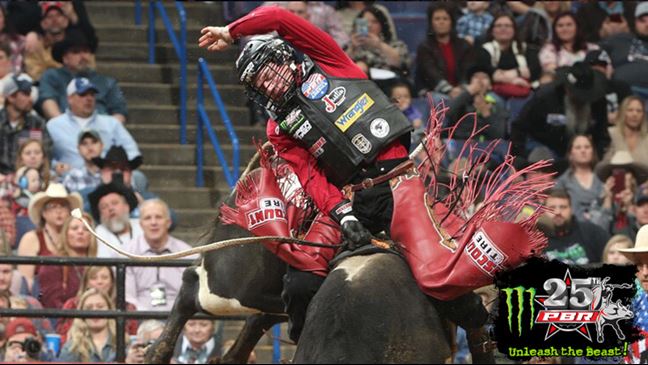 Brennon Eldred Secures The Round Two In In Albuquerque
Photo Credit: Andy Watson / Bull Stock Media
In round one we, once again, had to witness the nasty injury-plagued season continue to make its mark on the top bull riders in the world with another example of how dangerous this sport can be to all those involved.  Coming into tonight, many questions remained as to who would be able to compete and who would have to make an early exit after posting up a qualified ride in round one just 24-hours ago.  Once the draw was posted, many of the fans waiting for the action to start inside of "The Pit" began to look over the last minute changes and you could literally hear the whispering and watch the finger pointing begin to happen.  Although there were some disappointments the rest of the field of thirty-eight that remained knew they had just been given another opportunity to have a chance at making it to the final round tomorrow afternoon.
Once all of the opening ceremonies were concluded it was time to get down to business to see who would continue to strive and who would quickly began to fall to the wayside for yet another weekend on the Monster Energy Unleash The Beast Tour as round two was set to begin.  Each of the cowboys knew that every spot had previously been filled, making it almost an unwritten rule that they would have to ride at least two bucking bulls to have a chance at making it to the championship round tomorrow afternoon.  Tonight, however, that is exactly what 12 more did after watching 16 do the very same thing in round one.  When everything was said and done the man standing on top of the heap, for the night anyway, would be Brennon Eldred after posting up a huge 88.25 point ride atop of Owen/Wyatt's Mac's Barbeque to take home the round two win and the 100 world title race points that went along with it!
Complete Breakdown Of Qualified Rides At The 2018 Ty Murray Invitational:
Brennon Eldred (88.25)                                                   Keyshawn Whitehorse (88.00)
Juan Contreras (87.75)                                                     Cody Jesus (87.75)
Paulo Lima (87.25)                                                            Cody Nance (86.50)
Cody Teel (86.25)                                                               Guilherme Marchi (86.25)
Rubens Barbosa (85.75)                                                    Marco Eguchi (84.75)
Silvano Alves (84.25)                                                         Ramon de Lima (83.50)
Now that the train has seemed to get back on the tracks to move ahead, the cowboys here in Albuquerque this weekend have another thing on their minds as we head into the final day of action at the Ty Murray Invitational.  The focus now switches from trying to right the wrongs of the past couple of weeks to doing what they have to do to even make the championship round tomorrow afternoon with so many qualified rides being made throughout the first two rounds of action at "The Pit".  It is safe to say that tomorrow afternoon's final day will close out a very exciting event that began to give many of the cowboys back the confidence that they have been trying to find through all of the trials and tribulations that they have had to endure already in the early stages of the 2018 season!
It is quite easy to follow all the breaking news and excitement with the Rodeo Round Up simply by copying this website into your favorites in your web browser for easy one-click access to event statistics. You can also like and follow us on Facebook here, or by liking and following us on Instagram at @rodeoroundup and on Twitter at @therodeoroundup.  You can have easy access to all of the video interviews Jason does from all the events across the country as well by simply clicking the link HERE to be transferred to the Rodeo Round Up's Youtube channel as well! Jason has also made it easy for you to be a part of his interviews by opening up a listener comment line. If you have a question for a certain rodeo star simply call in and leave your name, where you are from, who the question is for and what your question is and he will do his best to get it answered for you during his interviews.