This weekend, the top bull riders of the Professional Bull Riders (PBR) 25th Anniversary Monster Energy Unleash The Beast Tour made their way to Austin, Texas to light up the capital city.  Things were hoped to continue down the path that we all witnessed last weekend with solid performances each of the two nights when the UTB series made its debut in the Commonwealth of Virginia!  As the 2018 season continues to draw closer and closer to the World Finals in Las Vegas, each of the cowboys here this weekend will be pulling out all of the stops in hopes of securing their own spot among the thirty-five that will be invited back to the T-Mobile Arena to contend for the 2018 World Championship Title.  That being said, everything was set up to have an epic weekend in the capital town of the great state of TEXAS!
Heading into the first round everyone in the locker room areas were upbeat and full of excitement as the action drew near inside of the beautiful Frank Erwin Center signifying that the 2018 Winstar World Resort and Casino Invitational was about to begin.  Even though the energy was flying high there was still a nervous tension that could be felt throughout the arena, not only inside of the locker room areas but inside of every fan watching the action live in Austin, Texas.  That was especially true among those cowboys that either sat on the bubble of the top thirty-five or came into the weekend just outside as they looked in with anticipation to take one of those spots by the weekend's end.  All would boil down to how things would play out on Saturday night underneath of the lights before we head back to the great Midwest for another debut event.
Colton Jesse Takes Round One In Austin
Photo Credit: Andy Watson / Bull Stock Media
Once round one began on Friday night, things began to look pretty bleak for the cowboys as the bovine athletes would take control in section one, but as the night progressed things would take a dramatic turn.  After all was said and done, there would be a third of the cowboys that would be able to make that eight-second buzzer to carry a qualified ride over into Saturday night's championship performance.  When everything had been laid out on the arena floor twelve would come out ahead of their bovine opponents but no one could match the guts and charisma that the young Colton Jesse brought to Austin, Texas.  He would win the round making an 88.25 point ride atop of Ogden Ranch/Hart Cattle Company's Pick-It Construction's Finding Jesus that would make the Rookie of the Year race too close to call.  Jesse would leave Friday night only 55.83 points behind the current leader Keyshawn Whitehorse who would carry an 86 point ride of his own into Saturday night's action inside of the Frank Erwin Center
Along with that storyline that we will be anxiously following throughout the final day of action, there are a few others that had made themselves known on Friday night that we must watch closely as well.  As we all know, Guilherme Marchi has announced his retirement after this season's conclusion but he may just have to rethink things through after ending night one with a second place finish as he looked as strong as ever.  On the other side of the equation, Matador Jerky Bullfighter Shorty Gorham would nurse a dislocated left foot that would keep him out of the action of Saturday night.  Taking his place would be the talented Cody Webster who would take the early morning flight out of Huntington, West Virginia where he was working the PBR's Velocity Tour event Friday night.
Jose Vitor Leme Claims The Round Two Win In Austin
Photo Credit: Andy Watson / Bull Stock Media
Saturday night's round two performance looked more like a championship round that we would see in all the other cities throughout the season as some of the best bovine athletes would shine and make round two an exciting thing to watch with some big scores being put up on both sides of the fence.  Once the dust settled and the action took a short break, there would be another twelve qualified rides that would be able to be added to the twelve that we saw just 24-hours ago in round one.  After world number one Kaique Pacheco fell off for the second of two nights, those behind him knew the opportunity was there to make up some huge ground.  Round two would be a tight race with Jose Vitor Leme claiming the round win after posting 88.25 points on the board to earn 100 world title race points and head into the championship round later in the night!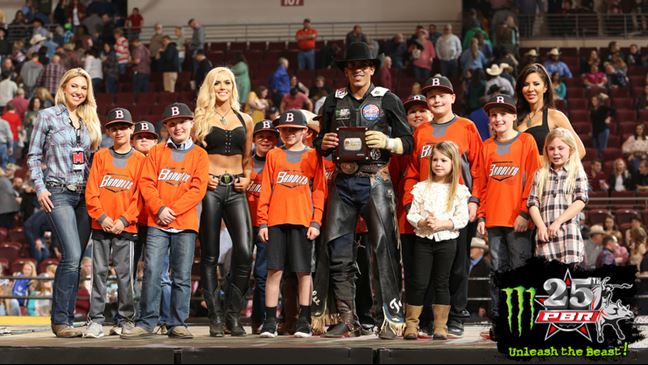 Luciano De Castro Wins The Winstar World Resort and Casino Invitational
Photo Credit: Andy Watson / Bull Stock Media
Once the scores were tallied and the pencils were put down it was the moment that all had been waiting for, the championship round that would determine who would walk out of Austin, Texas and the Frank Erwin Center with the 2018 Winstar World Resort and Casino Invitational event title.  If round two did not have enough bull power for your liking the championship round would provide even more fireworks that would tighten a few races as the season draws closer to a close.  In tonight's championship round there would be three of the top fifteen riders from this weekend that would round out the event on a high note.  Things were beginning to look up for Luciano De Castro who would walk out of Austin with both the championship round win and the overall event title earlier tonight and send him to Wisconsin with 550 world title race points as he is riding a high wave of emotion on his march towards a world championship title!
Complete Breakdown Of Qualified Rides From Austin, Texas:
Round One:
                                                                                                     Colten Jesse (88.25)                                                                         Guilherme Marchi (87.00)
Lachlan Richardson (86.75)                                                           Joao Ricardo Vieira (86.50)
Claudio Montanha Jr. (86.50)                                                       Keyshawn Whitehorse (86.00)
Sean Willingham (86.00)                                                               Cody Jesus (85.00)
Alisson De Souza (84.75)                                                               Cody Nance (84.00)
Valdiron de Oliveira (82.50)                                                         Dener Barbosa (81.75)
Round Two:
                                                                                 Jose Vitor Leme (88.25)                                                                                     Luciano De Castro (88.00)
Fabiano Vieira (88.00)                                                                                       Claudio Montanha Jr. (87.75)
Cody Nance (85.75)                                                                                             Lachlan Richardson (85.75)
Eduardo Aparecido (85.50)                                                                               Ramon de Lima (83.75)
Alisson de Souza (83.50)                                                                                   Alex Marcilio (83.25)
Derek Kolbaba (81.50)                                                                                       Ryan Dirteater (78.25)
Championship Round:
                                                                                                    Luciano De Castro (92.50)                                                          Jose Vitor Leme (89.25)
Ramon de Lima (88.50)
Following this weekend's event here in Austin, Texas, the race to Las Vegas is on fire and all that excitement will make for a fantastic event next weekend in Milwaukee, Wisconsin as the Professional Bull Riders 25th Anniversary Monster Energy Unleash The Beast Tour makes its debut.  The Rodeo Round Up team will be in attendance to see what begins to unfold from the Fiserv Forum as the Ariat Invitational Presented by Cooper Tires takes place.  We will be following the world title race, the Rookie of the Year race and any other bubble storylines that begin to happen and will feature exclusive interviews live from the arena floor.  Be sure to follow the rest of the season with us here at the Rodeo Round Up as we watch another world champion crowned in just over a month's time from Las Vegas!
It is quite easy to follow all the breaking news and excitement with the Rodeo Round Up simply by copying this website into your favorites in your web browser for easy one-click access to event statistics. You can also like and follow us on Facebook here, or by liking and following us on Instagram at @rodeoroundup and on Twitter at @therodeoroundup.  You can have easy access to all of the video interviews Jason does from all the events across the country as well by simply clicking the link HERE to be transferred to the Rodeo Round Up's Youtube channel as well! Jason has also made it easy for you to be a part of his interviews by opening up a listener comment line. If you have a question for a certain rodeo star simply call in and leave your name, where you are from, who the question is for and what your question is and he will do his best to get it answered for you during his interviews.