As the 2018 Wrangler National Finals Rodeo begins its last push towards the end we look ahead to how things will begin to play out regarding the world title races in all seven of the classic professional rodeo events that are being competed in here in Las Vegas.  Last night brought us to the halfway point of the ten-day run and still not much is set in stone as we watch one of the best WNFRs in recent memory with nail-biting world title races, arena records being broken and the end of an era with the King of the Cowboys Trevor Brazile making his last Wrangler National Finals Rodeo appearance.  Brazile announced his retirement from full-time rodeo life just prior to the beginning of the 2018 WNFR last week.  All in all, we have seen many great things over the first five nights and look to continue that trend as the second half begins tonight!
Not that we have forgotten about the WNFR average race, we will now begin to look at things a little more closely now that the rounds are beginning to count down and the money that can be won in the average race will greatly affect the world title race in just a few short days.  All but one, possibly two, events are still wide open and up for grabs which will make the last five rounds of action here at the 2018 Wrangler National Finals Rodeo something that you will not want to miss and that will offer the fans watching an edge-of-the-seat experience that one could expect with watching the best professional rodeo athletes in the world compete all together in one fantastic arena.  That being said, barring any major catastrophes, Sage Kimzey will look to claim his fifth consecutive PRCA bull riding world title on Saturday night while Hailey Kinsel hopes to stay atop the hard-charging ladies behind her in the WPRA barrel racing world title race!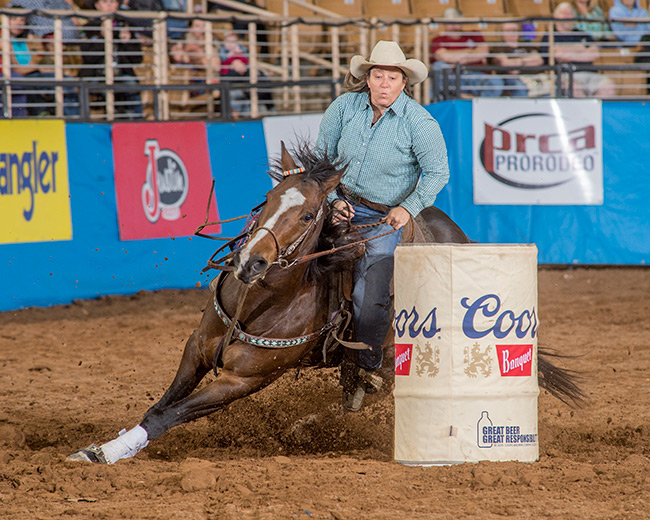 Tracy Nowlin And Dolly Jo have A Unique Story
Photo Credit: PRCA Media
When we look at all the memorable stories and moments from the 2018 Wrangler National Finals Rodeo we can think of many different instances but this year especially is so far giving us a lot to talk about with everything that is happening down on the arena floor.  From major retirement announcements to arena records being either broken or challenged in numerous events, we have had an event to remember so far here in Las Vegas.  I can imagine that we will be hearing and watching many more things that will cause us to raise some eyebrows and ask ourselves how in the world some things could happen and what will happen next as we march forward to crowning our 2018 Professional Rodeo Cowboys Association's and Womens Professional Rodeo Association's world champions.
One of those stories that was not brought to the forefront until the first couple of rounds of the WNFR is that compelling story of one strong bond between a top fifteen barrel racer and her fantastic horse that has a very interesting twist.  Tracy Nowlin is making her Wrangler National Finals Rodeo but here in 2018 but obviously could not have made it to Las Vegas without her hard-working equine partner Dolly Jo.  The bond and story that these two ladies have with each other is one that you will never hear about for quite a long time but is a Cinderella story in itself.   Jo is worth now that she has taken Tracy Nowlin to the WNFR but it has been widely talked about that she was bought off of Craigslist as an unwanted horse for a mere $1,800 which was a miracle in itself but created a bond and a fairytale story that will be talked about for a very long time.
Hailey Kinsel Gobbles Up The Sixth Go-Round Win At The 2018 WNFR
Photo Credit: Tom Donoghue
It only seems fitting that since we have showcased a feature story on a contestant in the barrel racing event and that it is the sixth round of the 2018 Wrangler National Finals Rodeo that we feature the ladies of the Womens Professional Rodeo Association and the sixth event in the order of events, the barrel racing that features very talented ladies on fast horses.  heading into this year's WNFR Hailey Kinsel looked to cap off a dream season that she has been having and up until last night was in an all-out dogfight to stay atop of the world title leaderboard.  Amerleigh Moore was quickly climbing up to the number three spot and was sitting pretty to pick up a huge payday for the average but ended up knocking a barrel in last night's round five to allow Kinsel to breathe a small sigh of relief.
As we all have seen over the first five nights of action, the world standings leaderboard can change at a drop of the hat and we are beginning to have a more clear picture of how the huge payout for winning the WNFR average can have an effect on who will walk out of Las Vegas as a world champion.  Every one of these ladies here knows that making clean runs for the remainder of the WNFR can shoot them up the average ladder and allow them to make big moves late in the event.  That being said, the stress that this gives these ladies is always in the back of their minds as they try and focus on the task at hand.  Tonight in round six, the runs became faster and faster but no one could match the speed that Hailey Kinsel laid down on the cloverleaf pattern to claim the sixth go-round win with a blazing 13.63 second run inside of the Thomas & Mack!
Bareback Riding
Round Winner: Ty Breuer (88.00)
Aggregate Leader: Steven Dent (510.50/6)
 World Leader: Tim O'Connell
Steer Wrestling
Round Winner: Curtis Cassidy (3.60 Seconds)
Aggregate Leader: Will Lummus (25.20 Seconds/6)
 World Leader: Curtis Cassidy
Team Roping
Round Winner: Tyler Wade/Cole Davison (3.90 Seconds)
Aggregate Leader: Aaron Tsinigine/Trey Yates (48.40 Seconds/6)
 World Leaders: Clay Smith & Paul Eaves
Saddle Bronc Riding
Round Winner: Zeke Thurston/Cort Scheer (89.50)
Aggregate Leader: CoBurn Bradshaw (503.00/6)
 World Leader: Ryder Wright
Tie-Down Roping
Round Winner: Cooper Martin (7.60 Seconds)
Aggregate Leader: Ryle Smith (49.00 Seconds/6)
 World Leader: Shane Hanchey
Barrel Racing
Round Winner: Hailey Kinsel (13.63 Seconds)
Aggregate Leader: Jessica Routier (82.71 Seconds/6)
 World Leader: Hailey Kinsel
Bull Riding
Round Winner: Dustin Boquet (91.00)
Aggregate Leader: Joe Frost (347.00/4)
 World Leader: Sage Kimzey
All-Around
 World Leader: Trevor Brazile
Now that the world title races are beginning to take shape and many positions will jockey each and every night we have a lot to cover and keep track of to make sure you are all well informed of everything that is happening here in Las Vegas.  For that reason, we would like to give you the opportunity to check out the Professional Rodeo Cowboys Association website by clicking HERE to check out what is happening around town, where the parties are at and where you can watch the Wrangler National Finals Rodeo performances if you were not able to secure a ticket of your own to the Thomas & Mack.  For those of you that have not been able to join us in Las Vegas, you can keep up to date right here at the Rodeo Round Up or even watch it for yourselves each night at 9 P.M. Central on CBS Sports Network!
It is quite easy to follow all the breaking news and excitement with the Rodeo Round Up simply by copying this website into your favorites in your web browser for easy one-click access to event statistics. You can also like and follow us on Facebook here, or by liking and following us on Instagram at @rodeoroundup and on Twitter at @therodeoroundup.  You can have easy access to all of the video interviews Jason does from all the events across the country as well by simply clicking the link HERE to be transferred to the Rodeo Round Up's Youtube channel as well! Jason has also made it easy for you to be a part of his interviews by opening up a listener comment line. If you have a question for a certain rodeo star simply call in and leave your name, where you are from, who the question is for and what your question is and he will do his best to get it answered for you during his interviews.