Following an exciting round one of bull riding action, less than 24-hours ago, the stage was set for a memorable Championship Sunday performance here in Raleigh, North Carolina as we work towards the Frontier Communications Invitational event champion.  Following the first round things looked much the same at the top of the world standings with the top five still within an event win of taking over the number one position.  Along with the exciting race at the top that everyone is watching there was also many anxious fans awaiting the return of two fan-favorite bull riders Jess Lockwood and Mason Lowe who both returned from injuries but ended coming up a little short last night.  I can almost guarantee this did not sit well with either one of them and you will be seeing a much different outcome at the conclusion of round two here later this afternoon.
In round one, the top 35 bull riders in the world were given a little reprieve, if you can call it that, when the bull power was in favor of the cowboys with many rider-friendly bulls in the line-up.  This afternoon, however, that would not be the case as many of these bovine athletes here today are vying for an invite to the PBR World Finals which means they are not as easy to get by as in round one where we expected to see fewer than the 16 rides that we all were able to watch last night.  The pure determination and grit on both sides of the fence that we will see today will be amazing as each and every athlete strives to make big moves as the 2017 PBR Built Ford Tough Series season is nearing the completion in just one short week from now!
 Cody Teel Splits The Round Two Win With Gage Gay
Photo Credit: Andy Watson / Bull Stock Media
Coming into tonight's second round any of the top 35 bull riders in attendance knew that they needed to make a qualified ride in order to have any chance at making it back to the championship round later in the afternoon.  This is simply because last night there were a total of sixteen qualified rides made, thus, filling up the available fifteen spots so each of these cowboys knew it was quite literally a ride or go home situation.  Being this late in the season and knowing how close the world title race is on each end of the spectrum, that is not where you want to be headed before climbing aboard another bucking bull in the championship round.  This afternoon, from the get-go, you could tell the 100% try and effort that all 35 bull riders brought to the arena with them here in round two.
Once the opening ceremonies were concluded it was time to sit back and watch the best bull riders in the world compete in the second round of the Frontier Communications Invitational here in Raleigh!  As the action began the nerves and emotions were running high, not only within the contestants but around the entire arena as the sold-out crowd cheered on their favorite riders and bucking bulls.  When the last bull was bucked in round two there would be a similar ride total as in round one with  15 managing to make it to the eight-second buzzer.  Tonight, Gage Gay and Cody Teel would split the round win with beautiful 86 point rides and claim two of the fifteen available spots in the championship round moments later!
Complete List Of Round Two Qualified Rides Listed Below:
                                                                                                                           Cody Teel (86.00)                                            Gage Gay (86.00)
Joao Ricardo Vieira (85.50)                          Cody Nance (85.25)
Ryan Dirteater (85.25)                                   Guilherme Marchi (84.50)
Kaique Pacheco (84.50)                                 Ramon de Lima (84.25)
Alex Marcilio (83.75)                                      Fabiano Vieira (83.50)
Mason Lowe (83.25)                                       Dakota Buttar (81.75)
Dener Barbosa (81.75)                                    Eduardo Aparecido (81.75)
Claudio Montanha Jr. (75.50)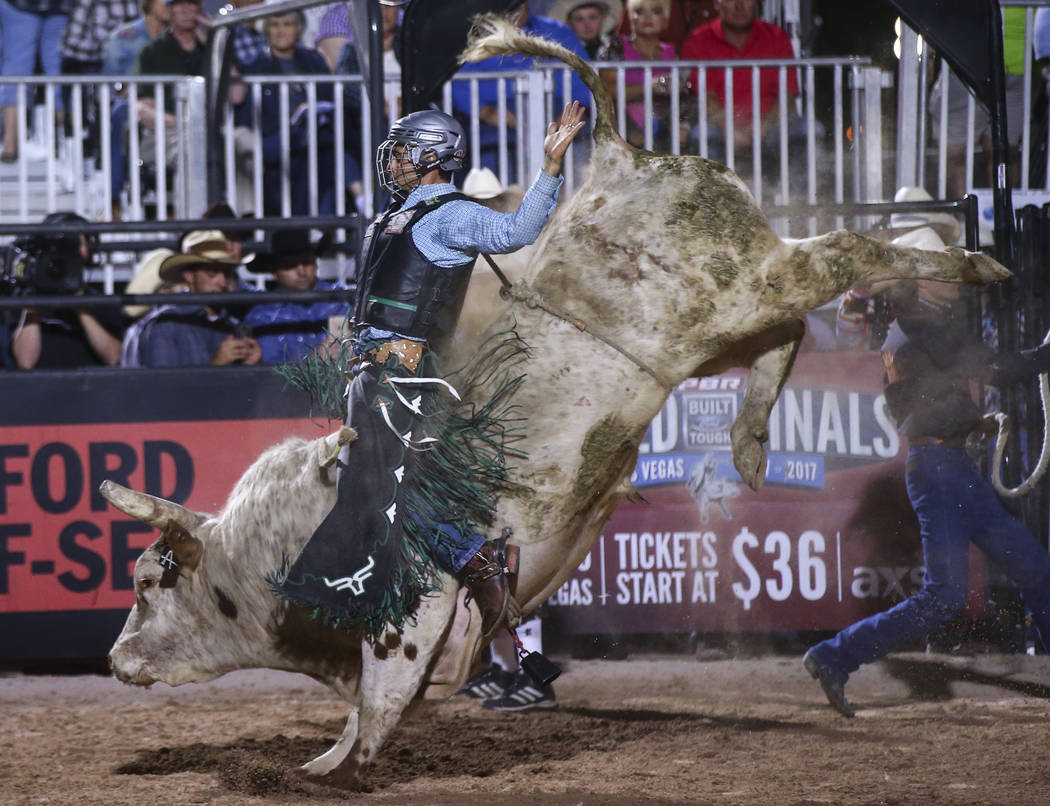 Claudio Montanha Jr. Wins The Championship Round Here In Raleigh
Photo Credit: Andy Watson / Bull Stock Media
Once another exciting round of qualifying action was in the books it was time to put pencil to paper and figure out who would be invited back to the championship round here in Raleigh to see who would leave with an event title.  After two rounds there were bound to be some injuries and bumps and bruises but we would all have to wait and see what that would mean to the look of the final round of the Frontier Communications Invitational.  When the stage was set and the television commercial breaks were concluded it was time to see what picks these fifteen cowboys would make, keeping in mind that a single decision could mean a spot at the PBR World Finals or a spot on his couch watching it from home.  What we witnessed was probably one of the hardest drafts that we have seen throughout the entire 2017 season.
After a championship round draft that was full of nerves and interesting choices, it was clear to everyone who was coming into the round full of confidence and swagger and who was coming in just hoping for the best outcome possible.  Just like every other event, it faired much better for those cowboys that were towards the top of the leaderboard after the first two rounds.  This championship round was stacked with huge bull power that included the reigning and defending world champion Sweet Pro's Bruiser along with many others that would give the cowboys all that they could handle.  That being said, there would be 3 of the 15  that would manage to make the eight-second buzzer with no one able to put up the numbers that Claudio Montanha Jr. did aboard Broken Arrow Bucking Bulls' Nailed, claiming the round win with a huge 88.75 point ride!
Dener Barbosa Celebrates His Frontier Communications Invitational Win
Photo Credit: Andy Watson / Bull Stock Media
Throughout the championship round we were able to see some of the best talent, both bull rider and bucking bull, go head to head to see who would be taking the event title home with them, sending along with it the boost that is needed late in the season.  This event win was a must as the entire 2017 Professional Bull Riders Built Ford Tough Series season comes to an end next weekend in San Jose, California.  The pairings that we were able to see here this afternoon were the type of caliber match-ups that we expect to see in Las Vegas come November but each and every fan was able to see it for themselves right here in Raleigh in the championship round!  The entire arena remained on the edge of their seats during all fifteen ride attempts in anticipation to see who would leave victorious.
If those match-ups were any indication as to how this afternoon's round would go, we all figured the rides would be few and far between but those that were made would put up huge numbers on the board.  All in all, this entire event was one of the best that we have seen in 2017 and the man that would take home the event title here this weekend would earn every bit of it.  Once things were all said and done, the shark cage became the main focal point as we closed out this tremendous event crowning an event champion.  This weekend that would be Dener Barbosa who would go a perfect 3-for-3, taking along 250.75 combined aggregate points.  He would leave Raleigh with 450 world title race points and go into the final event before the 2017 PBR World Finals sitting in the in the number one position in the Rookie of the Year standings!
After a very exciting Championship Sunday, and event for that matter, it is now time to look ahead as the final event of the 2017 Professional Bull Riders Built Ford Tough Series regular season is looking at us right in the face.  Many questions remain as we head west for the remainder of the season with San Jose, California set in our sights.  The Cooper Tires Take The Money And Ride event presented by Wrangler is the last event left for any chance these cowboys have on making the big moves they need to in order to secure a spot at the PBR World Finals.  I can guarantee that the 35 bull riders who will be in San Jose will be giving it their all which should make for one of the best events of the entire 2017 Built Ford Tough Series season.  Keep watch as the Rodeo Round Up team breaks everything down for you following its conclusion on Sunday afternoon!
It is quite easy to follow all the breaking news and excitement with the Rodeo Round Up simply by copying this website into your favorites in your web browser for easy one-click access to event statistics. You can also like and follow us on Facebook here, or by liking and following us on Instagram at @rodeoroundup and on Twitter at @therodeoroundup.  You can have easy access to all of the video interviews Jason does from all the events across the country as well by simply clicking the link HERE to be transferred to the Rodeo Round Up's Youtube channel as well! Jason has also made it easy for you to be a part of his interviews by opening up a listener comment line. If you have a question for a certain rodeo star simply call in and leave your name, where you are from, who the question is for and what your question is and he will do his best to get it answered for you during his interviews!